We have a new favourite room in our home! To be honest we don't really know what to call it and 'breakfast room' doesn't seem do it justice. Yes, it's a perfect place to enjoy breakfast but it's also a homework zone, lunch spot and best of all; a grown up entertaining space in the evening. But it hasn't always looked this lovely.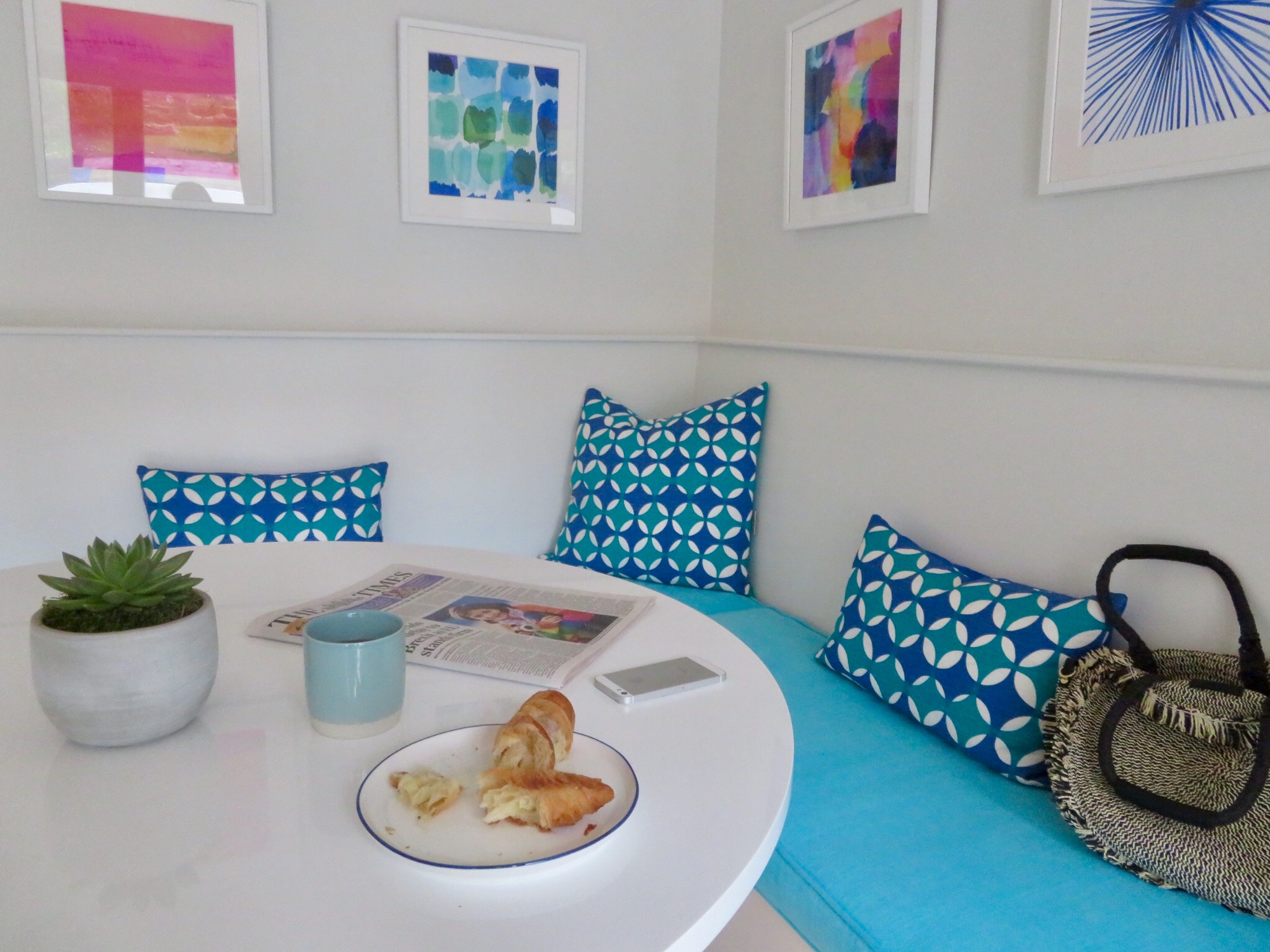 When our boys were small, it was the perfect playroom being just off the kitchen/diner. A noisy room with toys overflowing into the kitchen area or a place to watch TV. Then, when they had outgrown the 'toys' stage, it became just a TV/Xbox room. This was all fine until we converted our old lean-to conservatory into the 'boys den' leaving a room which essentially had no purpose at all. This is what we decided to do.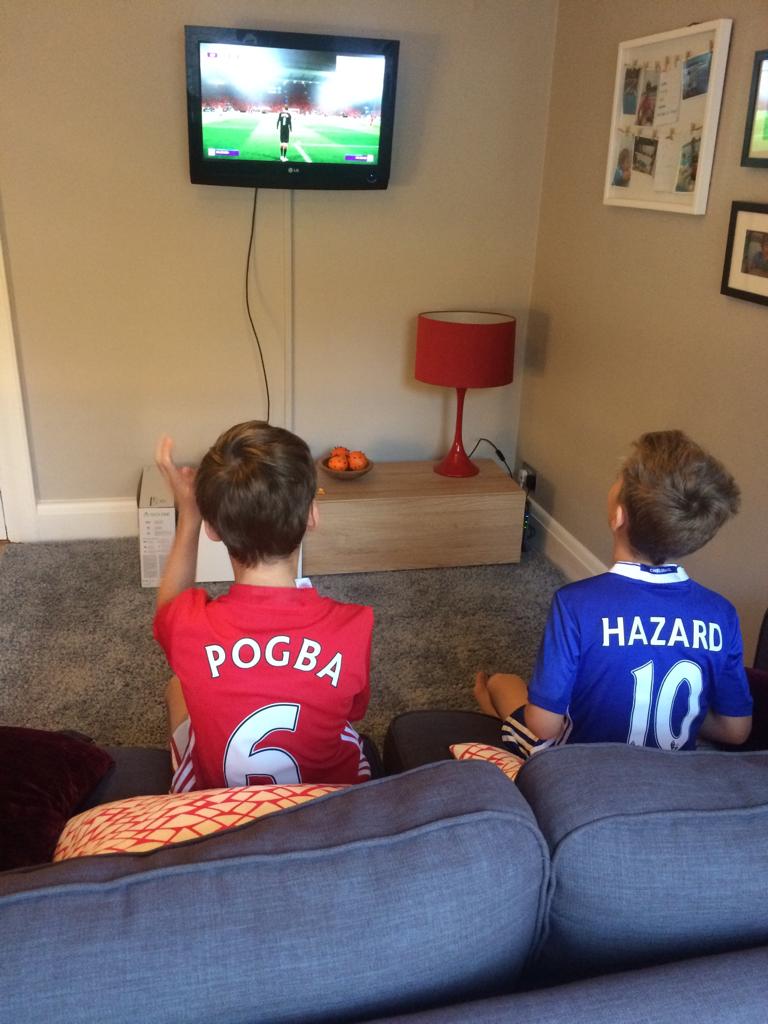 We wanted a cosy place to relax and entertain but we also wanted easy access to the garden via the bi-folds. After much deliberation we had a eureka moment and came up with the idea of adding some 'banquette' seating. Here is the room at the very first stage just after Paul the carpenter made the banquette with added storage using MDF - all in one day!
The paintwork was an easy choice, we were going for an all white look - just like a classic Greek villa. So goodbye 'Elephant's Breath', hello 'Slaked Lime' from The Little Greene Paint Company. We chose this soft white paint to decorate the walls and woodwork creating a blank canvas for the all the colour we would introduce later. The white ceiling lighting with gold leaf effect from Habitat brings a touch of glamour to the room and immediately zones the space.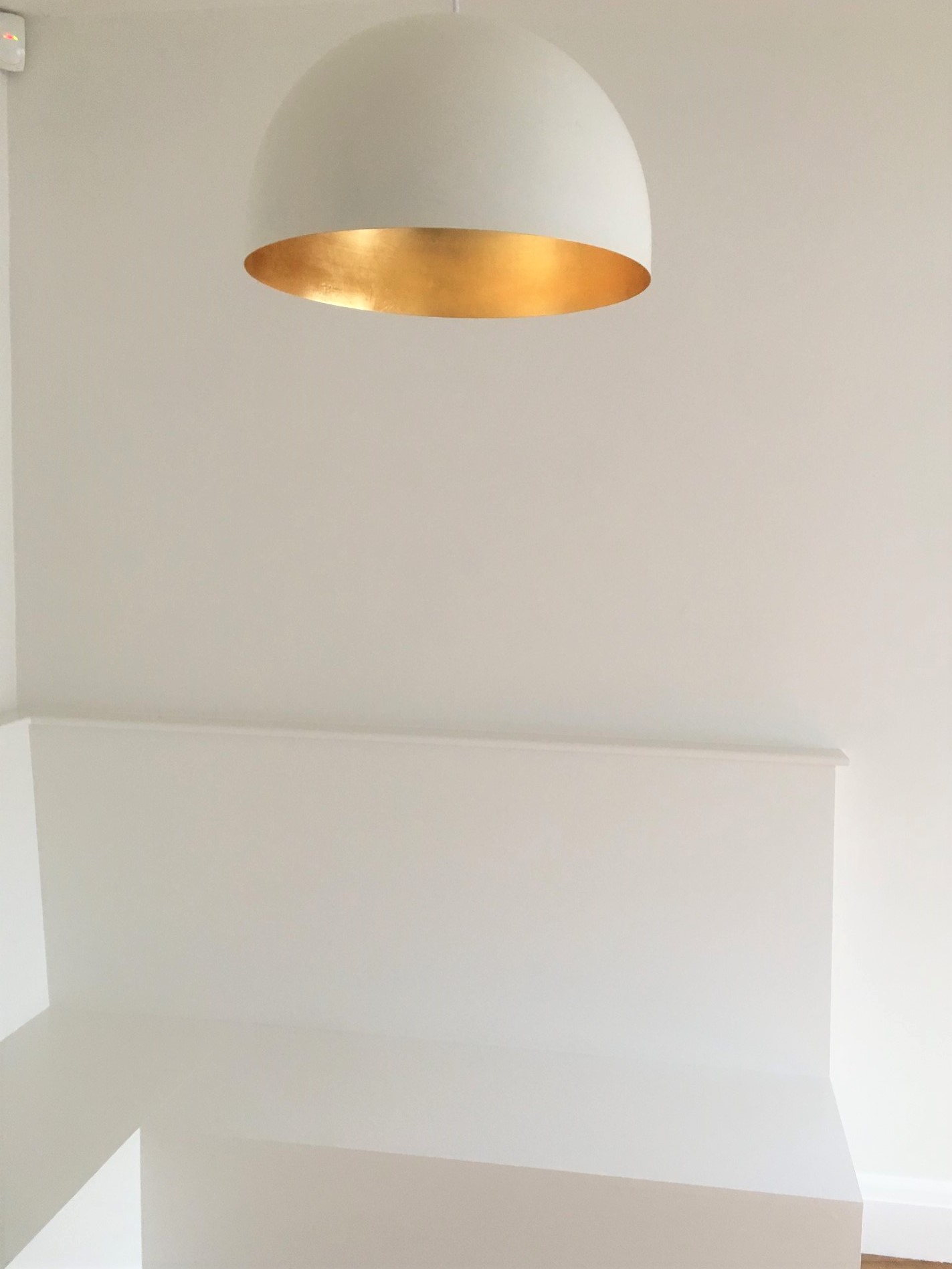 For instant impact we added some greenery with a large dragon tree plant (Dracaena Marginata). We chose this plant because it's a low-maintenance plant which even we could look after. It also boasts air-purifying properties. Placed in a statement metal planter it cleverly hides some unsightly plug sockets which used to lurk behind the old sofa.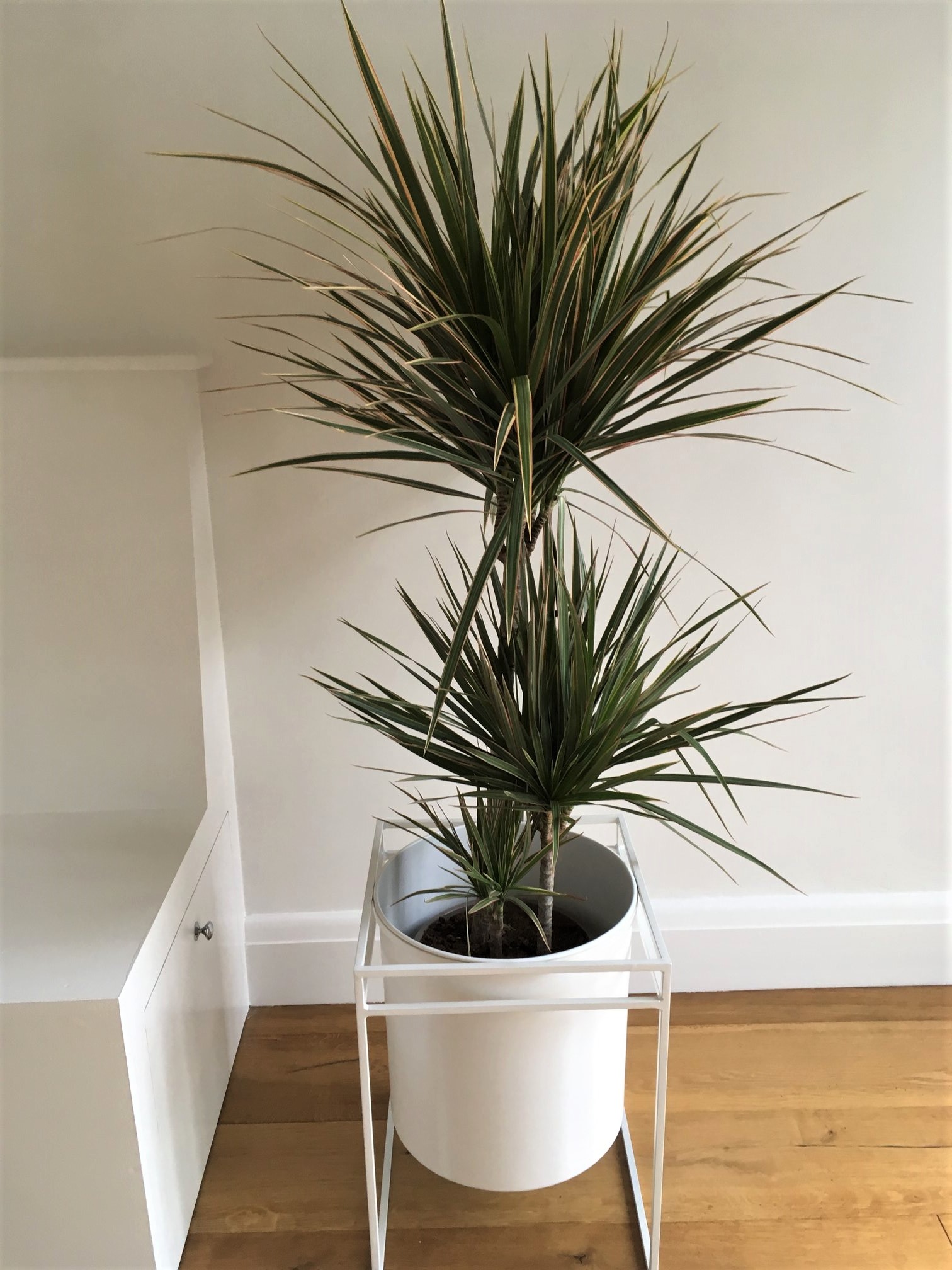 We love the contrast of blue and white, so reminiscent of Greek villas in Santorini, so we wanted a colour palette with this in mind. The bench seating by Sarah Millmore Upholstery was always going to be blue. We chose the Linara fabric from Romo in 'Bermuda' which is a family-friendly washable linen for those occasional spillages etc. A top tip from Sarah - make sure your carpenter knows the thickness of the bench padding so they can measure the height of your banquette accordingly.
The peacock green and blue cushions by Georgia Bosson are a lovely contrast to the turquoise seating and add some much needed pattern to the scheme. We will probably add a few plain cushions too but I'm yet to decide on the colour. Remember there's no need to rush when adding the finishing touches.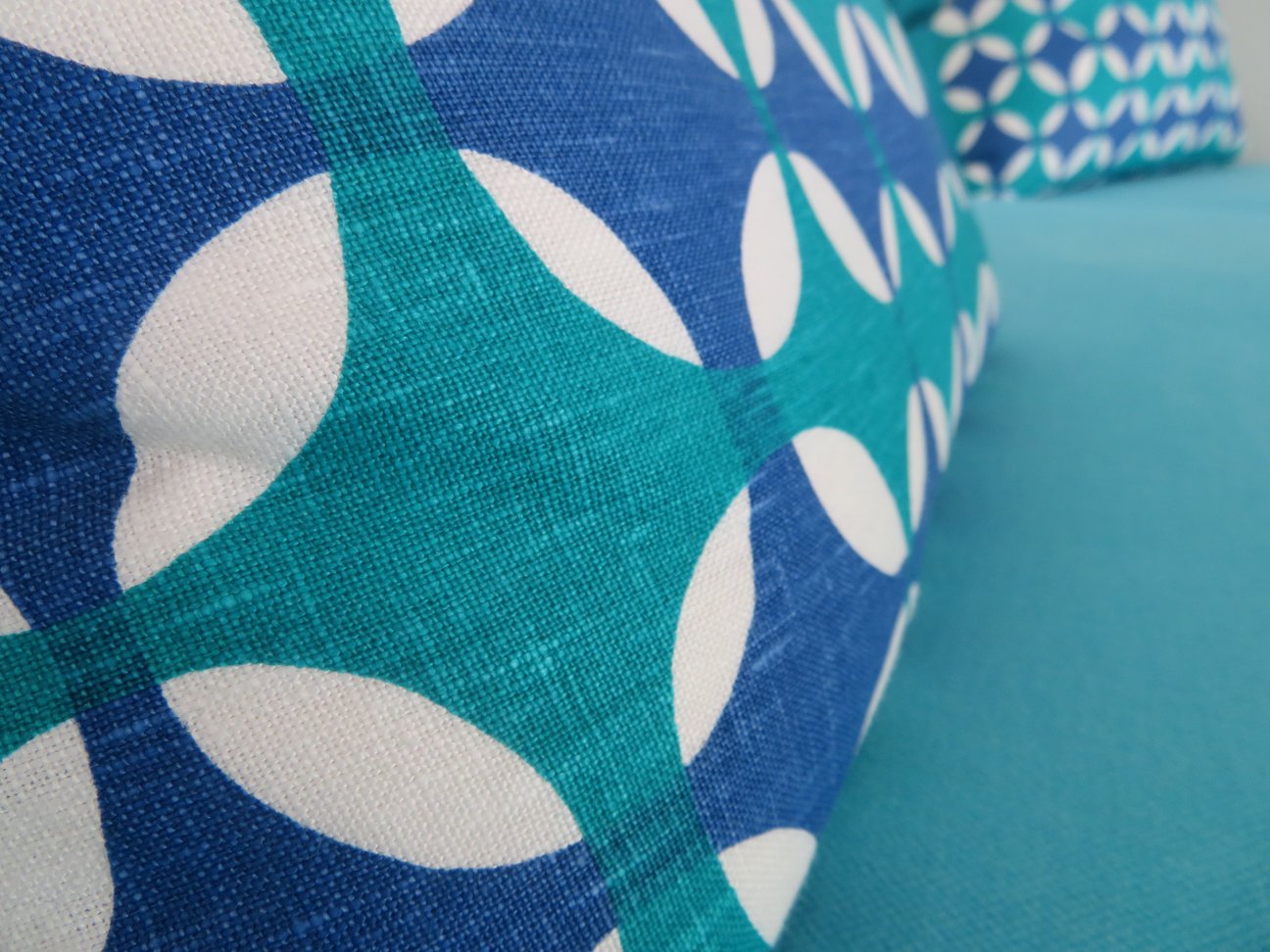 Beautiful abstract prints by Amy Sia found at King & Mcgaw bring the space to life. My particular favourite is the 'Sunset' print in clashing pink and orange. We hung the frames low to create the cosy vibe we wanted for this space.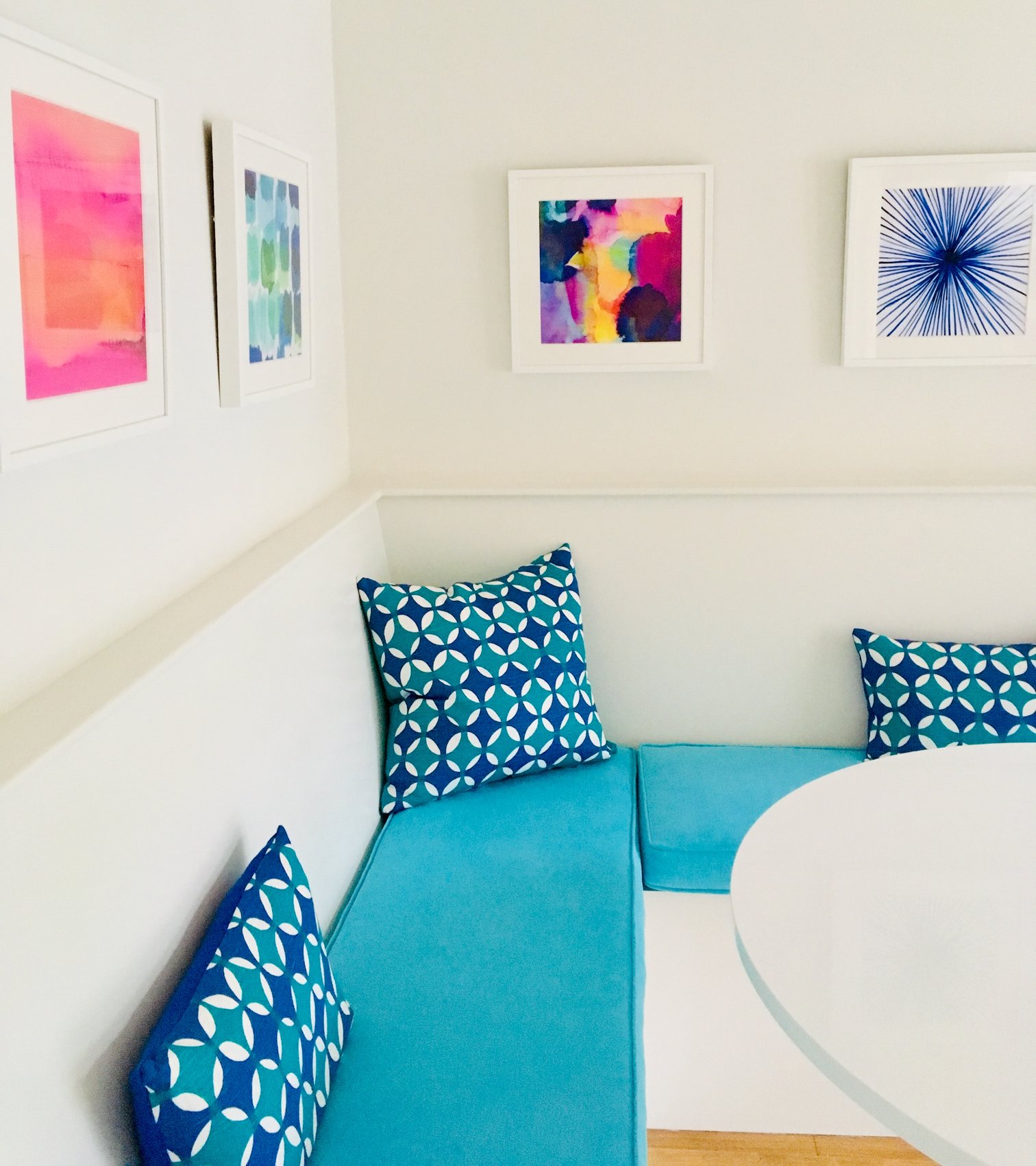 We chose a 'swan' table from Gillmore Space to free up valuable leg room, keeping the room minimal and fuss free. An added succulent makes a striking centrepiece too.
We don't miss the TV and certainly don't miss the toys. Instead we have a bright and welcoming room, with views of the garden, that the whole family can enjoy all through the day. We're also looking forward to having friends round to share this bright and sociable room. Salut!