As with Christmas decorations, it's tempting to go a little crazy with your festive dining table, adding layers of colour, glitter, lighting and other accessories. And that, of course, is fine, but our preferred (and simpler!) approach is to follow the old adage that 'less is more' and instead go for an understated, rustic look, elevated with a few festive elements. Whatever you do, have fun with it and try not to get too stressed. Here's what we do:
Keep It Simple
We start with a crisp white tablecloth, a blank canvas against which our festive colours will really 'pop'. For tableware this year, we're using the Abbesses range from Canvas Home, classically designed white porcelain with a delicate hand-painted rim. Assorted rim colours are available, but pairing red and green will give you a festive feel without detracting from the overall neutral colour scheme.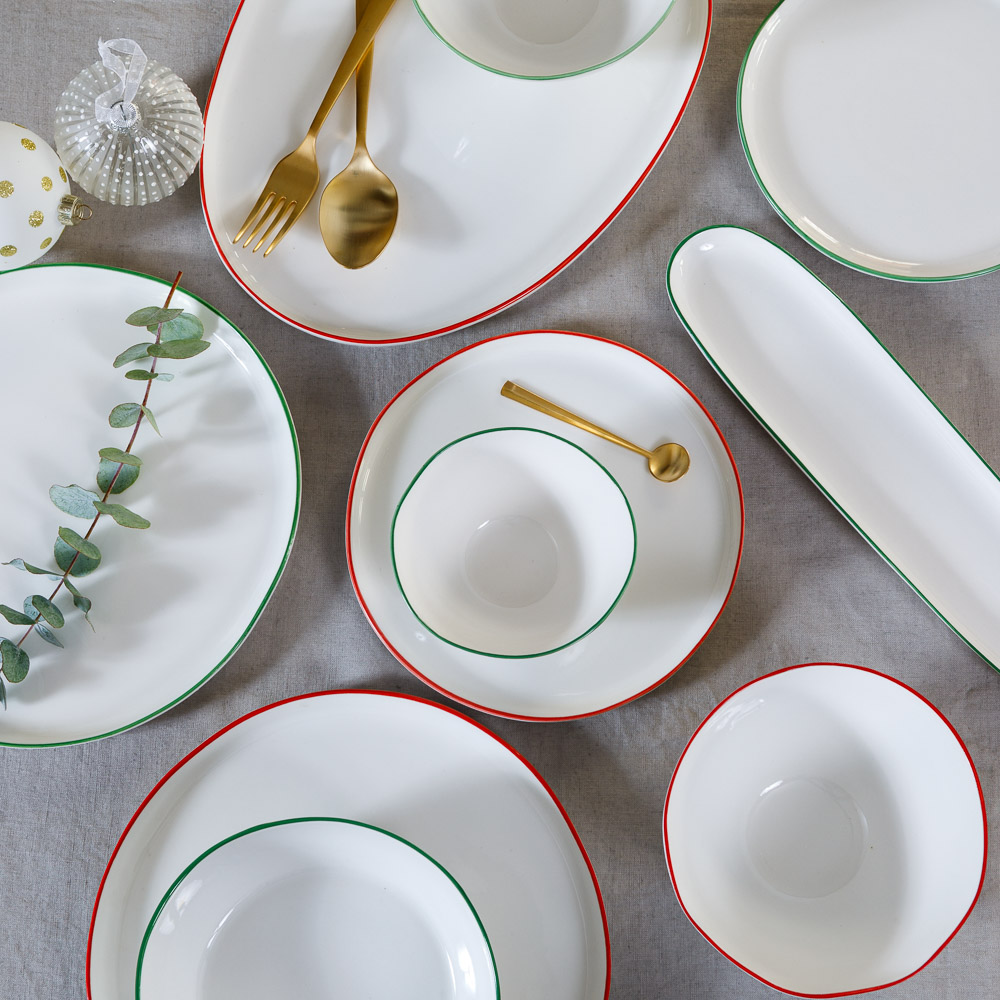 Candlelight
Whilst large and elaborate candle holders can provide glamour and sophistication, a smattering of small, simple tealight holders will create the magical ambience that you want from your table display, without dominating the room or, worse still, getting in the way of across-the-table conversation. We avoid scented candles in the dining room, preferring instead the smells of Christmas cooking and mulled wine (unless of course we've had a major culinary disaster!).
All that glitters...
A few table accessories featuring some gold or silver detail can add a touch of luxury to a table setting without appearing over the top. For instance, our Dauville collection, a range of food-friendly dishes featuring either a gold or platinum glaze, will achieve a luxuriously festive look at a very affordable price. Just the thing for serving pre-dinner nibbles or after-dinner chocolates!
Greenery
Historically, evergreen fir trees were brought into the home to celebrate winter festivals, as a reminder that spring growth was round the corner. The Christmas tree tradition continues today, of course, but why not take this a little further and add some natural greenery to your table setting? As well as being festive, it will lend a rustic charm to your table. We achieve this in the simplest of ways, by tying a sprig of rosemary or eucalyptus to each natural linen napkin with a piece of rustic twine. If you're feeling particularly creative, then a centrepiece of a white pillar candle within an evergreen wreath will look spectacular, the downside though is that you'll have less room for your wine!
Coloured Glass
To add a dash of festive colour and glamour to proceedings, we like to include a selection of eclectic and colourful glassware, perhaps some vintage Champagne glasses or coloured wine goblets. We want our glassware to 'pop out' from the neutral tones of our Christmas table and make a bit of a statement!
So this year, our festive tableware will include emerald green water glasses for everybody and, for the grown ups, wine goblets in cobalt blue and purple tones. If you really want to impress your guests, give each person their very own carafe and glass set, conveniently colour-coded to avoid mix-ups!
So that's our simple approach to creating an understated, rustic table setting with a few splashes of festive colour and texture. Remember, the fewer colours you use, the easier it will be to achieve a harmonious look. Enjoy your table-setting and enjoy the occasion - Merry Christmas!