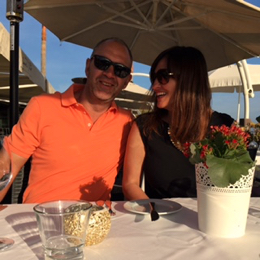 "Nisi" (pronounced "nissy") is the Greek word for "island" - it's also a nod to one of the Mediterranean's best beaches, Nissi Beach in Cyprus, the location of many fond childhood memories for Eleni, long hot days spent with her Greek relatives, enjoying life to the full!
As a family, we have always embraced the Mediterranean lifestyle, where food, style and culture combine so well to produce a happy living environment.
Whilst we don't quite have the climate here, it doesn't stop us creating a similarly vibrant living space, where the dining and entertaining areas become the centrepiece of the home.
Mediterranean homes are full of bright colours, warm textures and stylish yet comfortable furnishings; a place where informal gatherings with friends and family happen so effortlessly and spontaneously. To eat, drink and unwind in comfort but also in style.
We created Nisi Living with the aim of bringing these qualities to your home, drawing inspiration from different design styles such as Modern Mediterranean, Boho Beach and Coastal.
Our hand-picked collection oozes colour, character and, most importantly, quality, with items sourced from North Africa, including Morocco and Tunisia, Mediterranean countries such as Portugal, Italy and Spain, as well as central and northern European regions. We also feature UK-based designers whose creations possess the same attributes of colour, style and warmth.
Please take time to enjoy our collection; we're sure you'll find something lovely to use or display, adding a little Mediterranean warmth to your living space.
Best wishes,
Eleni & Julian